My apologies to the race winners of the past week, who didn't get the credit they deserved:
Casey Mears won his first NASCAR race at the Busch race in Chicagoland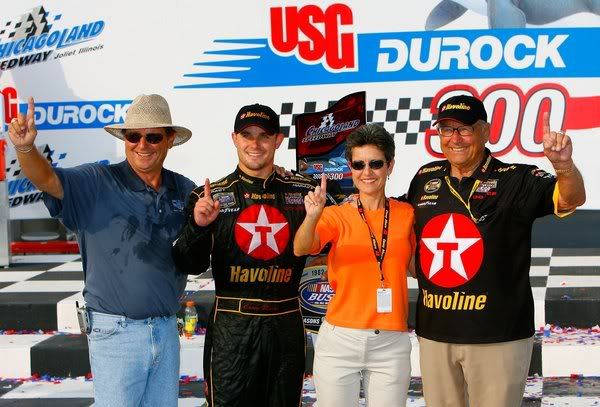 With Ron Hornaday picking up his second win of 2006 in Kentucky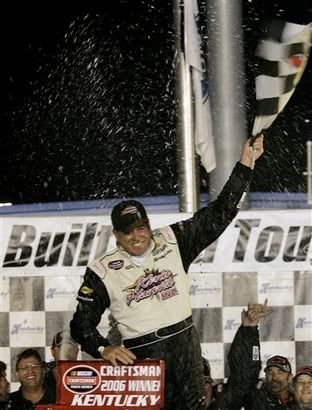 Top 8 Stories of the Week
The Latest On Juan Pablo Montoya: Released From McLaren,Will Start NASCAR Sooner Than Later
So it begins. McLarenpretty much said FU to Montoya and will put Pedro De La Los De Rosa in his spotand Montoya will get to come here now and start his stock car experience. Today I read that Michigan invited him to run the ARCA andBusch races this August. If I were incharge of this program, that's exactly what I'd do: Speedway ARCA races, Buschraces, and if possible, 7 Cup races. Onerace I think he would have to run is the ARCA race at Talladega in October. At any rate, it will be an interesting nextfew months to see how he handles the cars.
Danica's Move?
As if JPM wasn't a big enough announcement, here we haveDanica Patrick's dad coming to the track in Chicago and saying "we're trying to get herhere." Umm… did he tell Danicathat? I got the impression that he wasoverreaching when he said that and it's him trying to convince her that itwould be a good move. Obviously it's acash grab for her, either to get a new deal with an IRL team or to jump toNASCAR. If she stays in the IRL she hasto go somewhere else. Rahal Letterman isterrible this year because not only Danica is disappointing, but Buddy Ricehasn't exactly set the world on fire either. The same would be true for NASCAR, it would take a Roush or Hendrick orChildress for it to work.
As The ToyotaTurns

Someone should make me a logo for this. Dale Jarrett's impending move to the Toyota camp was solidifiedthis past weekend as UPS announced that they would sponsor their pitchman fortwo more years. It remains to be seenwhat number the car will be, but I have a feeling that when it's all said anddone it'll be 88. There are still holesto fill on the Toyotaroster and there could be some surprise names on there. Waltrip's 00 is still there and I think thatit will be a veteran driver. Either BillElliott or Ward Burton could fit in that ride. Also, don't forget about Jeremy Mayfield. I like Mayfield better with the Red Bullteam, though. He and Vickers would makea solid team. Bill Davis has a spotopen, presumably it may go to Bill Lester. I think he would be much better served by calling up Johnny Benson fromthe Trucks. Back to the 88, only thistime from the other side…

Robert Yates' Plans For 2007
I coined the team the Yateseidon this year but maybe, justmaybe thingswill turn around for them. Sadlerswears that he is staying with the 38 so that takes care of one of theircars. Interestingly, the team is workingto get Stephen Leicht approved so he can run the Brickyard. I think that gives us a clue as to who will bereplacing Jarrett. The team should get afresh start and keep the 88 owner points but sell the number to MWR. CitiFinancial is getting established with the90 in the Busch Series and if its Leicht who gets the call, bring that combo toCup. There is precedent for it, see the28 becoming the 38.
Stiffer Penalties For Cheating
Mike Helton once again makes his big tough guy stand,looking more and more like a mobster by the year. As evidenced by the Daytona Busch race, thecrew chief suspensions are up to 6 races now. Then he told the Nextel Cup guys the same thing. Yeah, that'll stop it. What else can NASCAR do to punish theseguys? 50 points? Miss a race? Personally, I'd like to see a public beating of the offending crewchief. And I pray to God that it's ChadKnaus.
Martin To Run Part-Time In 2007?
Mark's running part-time now? How long until the "well, that sixth teamneeds a veteran driver, I guess it might as well be…" routine? I'm fine with Mark running a part-time schedule. Although I don't see him winning, I thinkthat he should give the Daytona 500 one more chance. I have a feeling that he'll be in the 6 carat some point next season if Kluever is running a Busch race somewhere else. If he does do the part-time thing though,it'll be awfully strange to see him not in the 6.
New Dodge Car Model
Dear Dodge,
The Charger was your fault. Make the nose of the car like the Intrepid and you're set. You needed two years to figure that oneout? Here is a good look: put a likenessof Dr. Z's mustache on the front grill. Ze best dezign ov German an American engineering.
Sincerely,
Matt
A Few More Open Wheel Stories

A.J. Allmendinger won his third race in a row this pastweekend, pretty impressive for the kid. He is American too, so yay. Maybehe'll be a key figure in the new ChampIRL Series.
I saw this one a few days ago and it explains somethings. Hemelgarn and Carmelo Anthonysplit up because Hemelgarn sucks and driver P.J. Chesson is unemployed. Whoever told Carmelo that this was the teamto invest in should be fired. Belowaverage equipment along with an inexperienced driver is a recipe for disasterthat even I could see from a mile away. They made it through Indy and now Melo and Chesson are looking somewhereelse. I can't imagine where. Oh yeah, you can probably buy a ride fromEddie Cheever.

Intermission
You get nothing this week. NOTHING! HAHAHA! Yikes... maybe I should switch to decaf...
End of intermission

Oneof the longest-running sponsors in NASCAR may be calling it quits after this season. Tide has been a part of the sport for nearly 20 years and after this one, it appears that they are done. In a fun search, I found a few pictures for a photo restrospective of their involvement in the sport.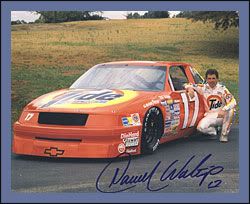 Darrell Waltrip ran the Tide car with Hendrick for several years, highlighted by winning the 1989 Daytona 500 and his version of the Ickey Shuffle after. Tide always got their money's worth with a mouthpiece like DW.
After DW left, it was Ricky Rudd who took the Tide colors first with Hendrick and the #5, then when he started his own team and switched to the number 10 and Ford. This was a steady combo for years and Ricky would win in almost every single one of those years. I remember two wins more than the rest: his Brickyard win and a win in Martinsville where he got out of the car and had to lay down in victory lane because it was so hot.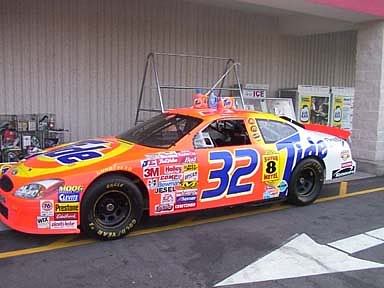 Now, we see the end of Tide. Ricky Craven gave them two wins in 2001 and 2003, both being memorable in their own way. PPI has now run the 32 into the ground.
The Cup and Busch Series invade New Hampshire this week in what could be a Chase preview at Loudon, the Trucks go short trackin' in Memphis and the IRL takes to the concrete oval in Nashville.