The YouTube movie trailer of the week:
BEEEEERRFEEESTTT!!!
This will be one of those guilty pleasure movies... I love it.
Now time for the Friday tradition:
- The Wednesday night Truck race ended in fine fashion with Mark Martin obliterating the field for his 4th win of 2006 in the series. I cannot wait until he gets to drive full-time in the series, unless...
- The latest unsubstantiated rumor that Jayski decided to post was that Kluever was given 2 weeks to pick up his performance or he would be let go and David Ragan would take his place. I have a hard time believing that myself because from everything that I've heard, he is a go for the 6 next year. I don't think everything will be finalized until Kluever's run his scheduled Cup races this season. I hope Mark doesn't end up back in the 6 again, not because I don't want him there (he can still get it done) but people will bitch about him "going back on his retirement" and all that other nonsense.
- Jeremy Mayfield will drive the #36 next season for Bill Davis, with sponsorship from 360 OTC, whatever that is. So... will he not run anymore races this year? Was that part of his settlement with Evernham? Does anyone know?
- The schedule is out for the
2007 Nextel Cup Season
. Not many changes, just some summer races being shuffled. It also has the specifics of the TV deal as NASCAR will now shove "Race To The Chase" down our throats after FOX's portion is over. Wonderful. The big announcement left is to see what Brian France and his infinite wisdom will decide what to do with the Chase format.
- I feel like one of the unattractive women in the Allstate/Kasey Kahne commercials about this weekend: "oh my god its BRISTOL! Racing at Bristol!!" But yeah, its Bristol and I'm about as excited for a race as I can be.
- Also competing this weekend: Champ Car in Montreal in the last televised race I'll be able to see and the IRL hits the road in Sonoma in a race destined to take Hornish out of the championship picture.
----- Bristol Preview -----
- The Busch Series action on Friday night is a great warmup to the Saturday night feature. The same amount of cautions in half the laps? Fun to watch and play along at home by guessing the number of laps until the next one. The winner Friday night is... Kevin Harvick (shocking, I know).
Now for the Cup side. For years, this race ranked somewhere around the top 5 most prestigious in the series to win. I don't question that it still is, but since 2004 we've seen that is an important race as well to not screw up in, which I think has guys racing a bit restrained. Just look at 2004 and 2005, in which one driver simply killed the rest of the field in some fashion. To me, I think that trend will continue, and it will be someone from 7th-13th in the points. I love this race so much. Just watch, everyone. But I shouldn't have to tell you that. After all, you could miss something like this: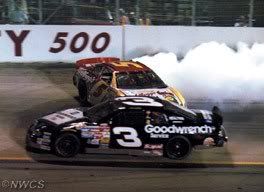 No matter who's side you were on, you know you can't get enough of it.
We gots picks:
WINNER - Greg Biffle
More like hoping so 3 Roush cars will make the Chase. Greg's underrated here and may just be desparate enough to revert back to Truck Series Greg for a night on the short track.
DARKHORSE - Ken Schrader
Picking a darkhorse at Bristol is pretty silly because anyone can be taken out and anyone can keep it together and with enough attrition, get a top 10. Ken's smarter than most drivers and could sneak up and get it done.
Here is the channel surfing schedule:
Today

Nextel Cup qualifying at 3:30 on SPEED
Nextel Cup final practice at 7:00 on TNT
Busch: Food City 250 at 7:45 on TNT
Saturday
Nextel Cup: Sharpie 500 at 7:00 on TNT
Sunday
Champ Car: Canadian Grand Prix at 1:30 on NBC
IRL: Infineon Indy at 3:30 on ESPN
Why haven't we heard anything about their reconciliation lately?