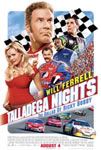 Well, the movie is here!
Talladega Nights: The Ballad of Ricky Bobby
In theaters everywhere! But I'm sure you already knew that!
Anywho, we have racing again this weekend:
- I literally just saw this... and its horrifying. Christiano da Matta is in critical condition after a practice crash in which he collided with a deer that wandered onto the course at Road America and then da Matta drove into a tire barrier. This defies explanation. Just a freak accident, hopefully he'll recover. As of right now, I don't know... its just terrible.
- Moving to nicer things... Petty Enterprises benefits from the closing of Competitive Edge and adding Marathon to the sponsorship package. Umm... when did that car run this year? That said, anything that gives the 43 and 45 teams some extra money to use is fine by me.
- Am I the only one who finds Sarah Fisher's comback to be kinda funny? Especially since she is returning to the team she drove for previously? Lastly, if anyone thinks she can hold a candle to Danica I'll laugh in your face.
- O'Reilly Raceway Park is the new name for IRP. Wonderful. It'll still be IRP for a while, it only took 3 years to be able to use Lowes and Charlotte interchangably but IRP sounds much better than ORP. The Busch and Truck guys will make their way there for more entertaining racing than what stock cars at the big track will do.
- FBR takes another stab at replacement drivers this weekend, but actually picks guys that have, you know, talent. Mike Skinner wheels the 12 and Ted Musgrave will be in the 14.
----- Indy Preview -----
The Brickyard. Indianapolis Motor Speedway. Just saying those words adds importance to an event. How many other tracks can claim to host the IRL, F1, and NASCAR in the same calendar year? That said, the racing at the Allstate 400 is more about prestige and track position than anything else. Winning at Indy is a big deal. It solidifies careers and has become the second-most important race in the NASCAR season. I expect to see much of the same result this year that we saw last year with Tony Stewart and Kasey Kahne fighting for the win. So who takes the win?
WINNER - Tony Stewart
Don't doubt Smoke. He has had two weeks of people banging on him and questioning him, and Tony responds better than anyone else in recent memory by having the last laugh. As much as NASCAR and Allstate want their showcase driver to win, Tony will break up the party.
DARKHORSE - Robby Gordon
Eh, why not? Just an easy way to mention he'll have Johns Manville on the car this week and I like to give former open wheel guys the homefield advantage at
their
track.
Today its a one day show at IRP for the Trucks as Cup qualifying is super special and starts at 10 AM Saturday.