The top 10, along with their odds (determined by me) to win the Championship this year.
1.
Matt Kenseth
(2 to 1)
Obviously, the 17 team is my prohibitive favorite. Nothing about this team suggests they can't win it this year; but I count about 4 or 5 teams that could also pull it off. Still, I just couldn't bring myself not to pick him.
2.
Jimmie Johnson
(2 to 1)
Nothing would make me happier than to see the 48 team fail again. They'll be in the conversation for the title and will be good for a few wins, but until he actually does win it all I won't pick it.
3.
Kevin Harvick
(3 to 1)
Kevin's riding an incredible wave of momentum into the Chase and could deliver in November. His incentive to win? Becoming the first driver to ever win the Busch and Cup titles in the same year. Oh yeah, it would be the first Cup title since 1994 for RCR.
4.
Kyle Busch
(4 to 1)
This guy scares me in a 10-race format. Kyle Busch could roll to a title this year or he could crash and burn. I think he'll be somewhere in the middle. You have to wonder if it's a benefit or burden to have an operation placing all or most of their teams in the Chase. I think it hurt Roush last year when all 5 were in.
5.
Denny Hamlin
(7 to 1)
This kid continues to impress and win over more fans by the week. Denny Hamlin is the smartest rookie I have seen on the track because his mistakes are so few and far between, the yellow stripe on his car is more of a decoration than a warning. He'll finish higher than his present 5th place.
6.
Dale EarnhardtJr.
(8 to 1)
I just don't see championship when I look at DEI. No matter how well he finishes one week, it is no guarentee to last. He did a great job putting himself in the Chase but a Championship for him is at least a few more years away. Maybe not until he joins RCR.
7.
Mark Martin
(10 to 1)
As my fingernails will attest, it was worrisome at Richmond Saturday night. I didn't relax until the checkered flag flew and it was certain that Mark made the Chase. For all the detractors about his age, retirement plans, etc., what is overlooked is the fact that only he, Kenseth, and Johnson have made the Chase every year since its inception. Mark Martin can still get the job done. I can't say the same about the team around him. I hope I'm wrong
8.
Jeff Burton
(10 to 1)
In a month, this team went from top 3 to nearly out to in - just barely. I think Jeff will do better than 8th in the next 10 weeks but I hesitate to say anything higher than top 5. It looks as if the 29 will be RCR's title hope. I'm still damn impressed with this car this year though.
9.
Jeff Gordon
(6 to 1)
Yuck. I don't this at all. There is too little hype around the 24 and that worries me, because Jeff Gordon is one of the biggest streak guys in NASCAR. When he was in the Chase in 2004 he fell just 16 points shy. Yeah, I'm really not liking this.
10.
Kasey Kahne
(10 to 1)
Kahne did it, he drove himself back into the Chase with furious efforts in the final few weeks until the cutoff. History shows that the guy that races his way in during the last race of the year doesn't fare well, however. If Kahne is within striking distance when the rash of 1.5 milers come up, watch out.
If you get two picks, one for the heart and one for the head, this guy is straight from the heart: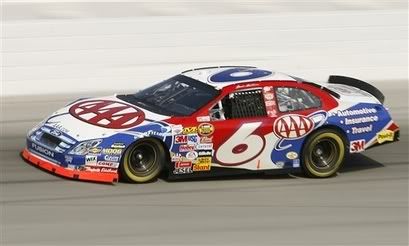 Maybe dreams will come true.