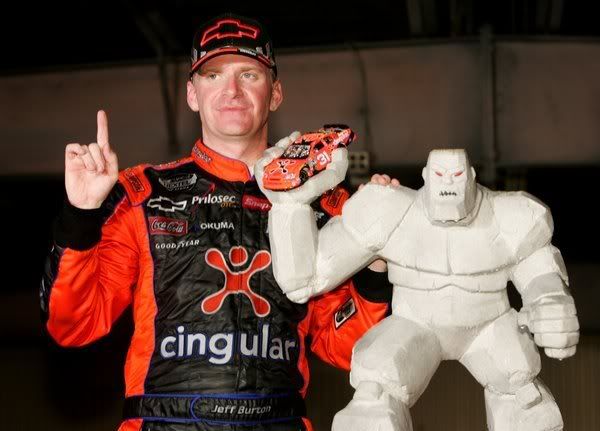 Jeff Burton made a long-awaited return to a Nextel Cup victory lane today in the Dover 400, passing Matt Kenseth with 6 laps to go. Burton also took the lead in the Chase standings over Jeff Gordon after the dominant car of the day, Matt Kenseth's, ran out of gas with 2 to go.
For the second straight week the 5 team encountered an early demise and Kasey Kahne was the next Chase driver to have a bad finish as he was collected in a spin by Tony Stewart. A big story of the race was how well the rookies ran throughout the day. Martin Truex, Reed Sorenson, and Clint Bowyer all ran well and the main rookie, Denny Hamlin, snuck through the field after falling a lap down early to claim a top 10. I was hoping to see the 6 car as more of a factor but the race for the lead in the final 30 laps was just awesome to watch.
For everyone that watched the Dover 400, I hope you treasured the thrilling, close, and clean battle between two great professional racers in Matt Kenseth and Jeff Burton. I myself thought it was a mistake for the 17 not to pit, given how few cars were on the lead lap and how many laps were left, but as each time they went by the starter's stand I kept thinking "well, he might just do it" because Burton had enough class not to spin a guy out of the way when he had a faster car. That fact eventually did win out and Burton made his way by for an incredibly popular win. It was really cool to see Matt after running out of gas and crossing the finish line to come and offer his congrats to Jeff.
I was very upset with the DeWalt team today for the wrong strategy. As Matt said himself, it's frustrating that fuel was even a factor. Kevin Harvick's lead in the standings lasted all of one week after his engine troubles at the end of the race.
After two races, here are the Chase standings:
GREEN
is a gain,
BLACK
is no change,
RED
is a loss; positions gained (+/-)
1. Burton 5351 (+4)
2. Gordon -6 (+2)
3. Kenseth -18 (--)
4. Hamlin -18 (-2)
5. Harvick -54 (-4)
6. Martin -75 (--)
7. Earnhardt Jr. -102 (--)
8. Johnson -136 (+1)
9. Kahne -182 (-1)
10. Busch -224 (--)
Complete results of the
Dover 400
.