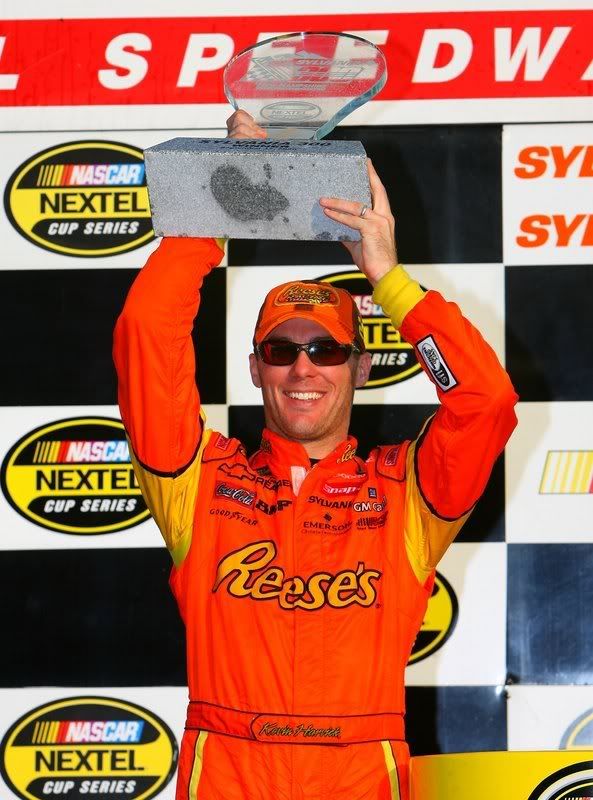 Kevin Harvick continued to ride his tidal wave of momentum today in the Sylvania 300, dominating the race and taking the points lead while Kyle Busch and Jimmie Johnson tripped over themselves and are starting the next 9 races at the bottom of the Chase barrel.
I didn't watch the whole race as my Panthers gave up a win in Minnesota and that depressed me a bit. Seeing the 5 and 48 both with problems made it better though. I let out a small school-girl laugh when I flipped over and Jimmie was giving an interview after a crash. This is bad, bad news for those guys to be starting from behind like this. The guys that did the best on the day were obviously Harvick, Gordon, and Hamlin. Each of those guys did what they had to do in the first race. I was hoping Vickers could cost Gordon more spots but what are you gonna do. It would be incredibly funny if Vickers ends up costing a Hendrick driver a championship by actually racing them. Kenseth battled for 10th place, which was probably the best he could do with little brakes. Good thing he started on top.
From what I was able to see, the on track action was decent at best. You really had to have a better car or a much better run than the guy in front of you to make a pass. Track position turned out to be the name of the game. Great runs for J.J. Yeley and Dave Blaney, who placed 7th and 8th respectively. All three Gibbs cars finished in the top 8.
After one race, here are the Chase standings:
GREEN
is a gain,
BLACK
is no change,
RED
is a loss; positions gained (+/-)
1. Harvick 5230 (+2)
2. Hamlin -35 (+3)
3. Kenseth -41 (-2)
4. Gordon -50 (+5)
5. Burton -64 (+3)
6. Martin -75 (+1)
7. Earnhardt Jr. -81 (-1)
8. Kahne -110 (+2)
9. Johnson -139 (-7)
10. Busch -146 (-6)
Complete results of the
Sylvania 300
.