Tony Stewart dominated the Bass Pro Shops 500 as the Chase standings have sorted themselves out a bit with Matt Kenseth and Jimmie Johnson battling for the top spot, they way they have nearly all year.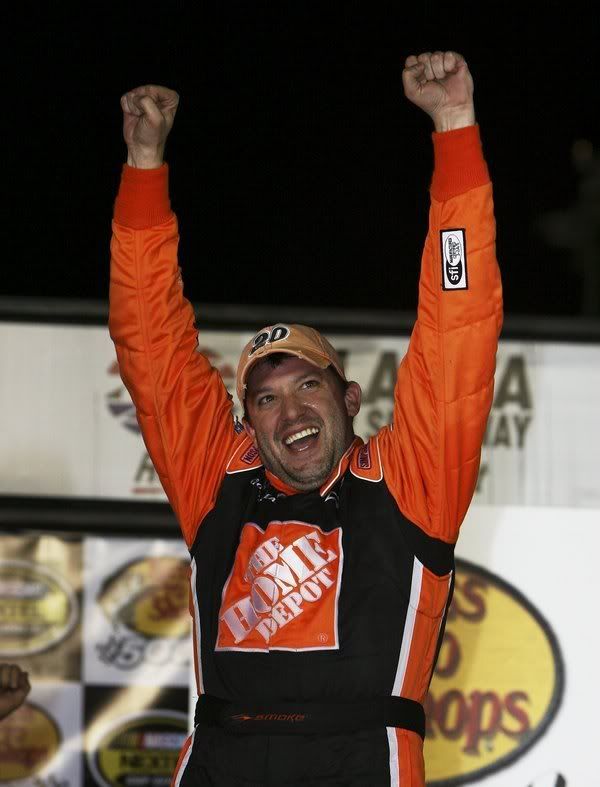 Tony's sending a message that he won't suffer the same fate in 2007 as he did this year missing the Chase. A second win in the last five races for him. Hey, who says guys are left out of all the media attention for not being in the Chase?

As far as the Chase goes, here are the standings:
GREEN
is a gain,
BLACK
is no change,
RED
is a loss; positions gained (+/-)

1. Kenseth 6008 (--)
2. Johnson -26 (+1)
3. Hamlin -65 (+1)
4. Earnhardt Jr.-84 (+2)
5. Burton -84 (--)
6. Harvick-121 (-4)
7. Gordon -146 (+2)
8. Martin -201 (-1)
9. Kahne -210 (-1)
10. Busch -249 (--)
I have this split three ways: first, the guys that are done. They are Busch in the Mayfield spot (I bet that SI writer predicting he would win the Chase is feeling awfully silly right now), Kahne, and Martin. Thanks for playing and good luck next year. For Mark, he said it himself: winning a title was never in the cards for him and it breaks my heart. The next group are the ones that need flawless runs and help the next 2 weeks. They are Gordon, Harvick, Burton, Dale Jr., and Hamlin. With three races left it will be very, very hard to gain points given that in the previous years, the guys that are at the top stay at the top. If they want to retain any chance of title hopes they need to win at Texas or Phoenix and record a top 3 at the other. Then we have the guys at the top. Matt Kenseth and Jimmie Johnson have been the class of the field the 2006 season and it is fitting that they run 1-2 late in the year. Johnson has been rolling in the last several weeks but with a 4th place finish at Atlanta Kenseth and the Killer Bees may have stumbled on something to fix their intermediate program. I was fully expecting a 15th place finish but pulling out a 4th that was almost 3rd shows that they are very resiliant and won't give up without one hell of a fight. I can't wait for these next three Sundays.