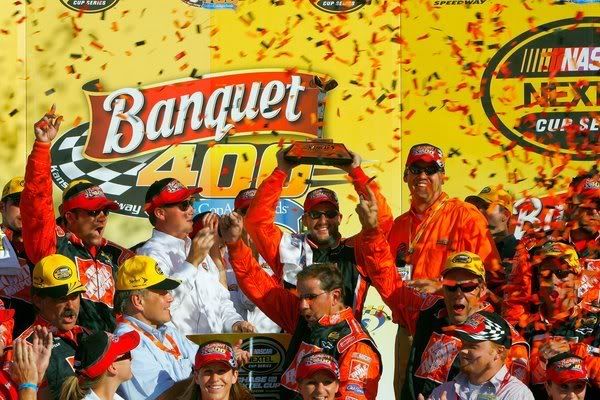 Tony Stewart won the Banquet 400 today as fuel and who had it when they needed ruled the day.
The race today reeked every bit of what it is in the grand scheme of the Chase: just make it through here and go on to the next week without any trouble. Today, Jeff Gordon didn't get the memo (man, I should pick a Hendrick driver every week) and to a lesser extent, neither did Kasey Kahne or Matt Kenseth. However, I don't think anyone could have predicted what would happen in the final laps of the race.
After the teams pitted with around 72 to go you knew someone would try it. Too long to race hard throughout the last run, but someone would stretch it to the end - or run out trying. Things started to sort out when teams began pitting around lap 250 and taking 2 tires to try and make up time. Things really got interesting when Kasey Kahne spun on as he entered pit road which in effect cost Jimmie Johnson the race, speeding penalty or not. The drivers that made it across the start/finish line were Tony Stewart, Casey Mears, and Mark Martin. It was really something when Stewart ran out as he was on the backstretch and just wondering if Mears or Martin would catch up in time to pass him for the win. Neither did, and Stewart made it across the line with room to spare as Mears, Martin, Dale Jarrett (!) and Jeff Burton rounded out the top 5.
Burton, Denny Hamlin, and Martin were the big winners from the race today. For Burton, he increased his championship lead to 69 points over second place Hamlin and third place Martin, who now stands just 70 points behind the lead.
Chase standings:
GREEN
is a gain,
BLACK
is no change,
RED
is a loss; positions gained (+/-)
1. Burton 5351 (--)
2. Hamlin -69 (+2)
3. Martin -70 (+3)
4. Kenseth -84 (-1)
5. Harvick -96 (--)
6. Gordon -120 (-4)
7. Earnhardt Jr. -123 (--)
8. Johnson -165 (--)
9. Busch -233 (+2)
10. Kahne -273 (-1)
Official results of the
Banquet 400
.