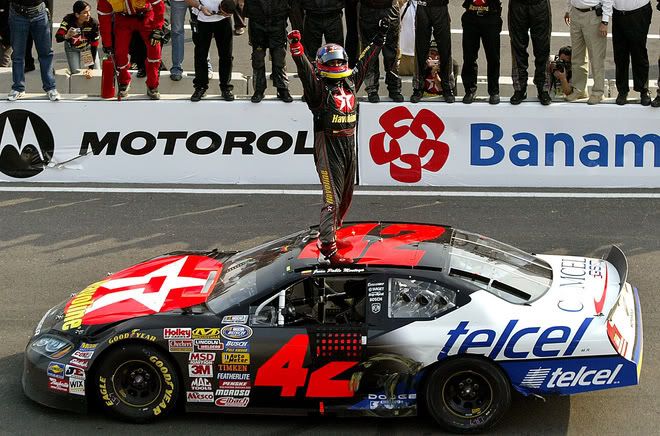 This afternoon, Juan Pablo Montoya earned a new fan.

I didn't expect much from the TelCel 200 today. ESPN sure gave it the star treatment with the full circle coverage, but I admit I was skeptical. I quickly changed my mind watching the domination, then determination of Montoya. Lap 52 would have crushed the chances for most drivers. Restarting in 19th on a road course with 28 to go is a tall, tall order even with 4 new tires. But he would not be denied.

Watching Montoya drive through the field was something special and it made for a great storyline. Montoya, the international rock star that has won in CART, IRL, and F1, and has been so impressive in NASCAR driving through the field in the race in Mexico City. NASCAR has to be enjoying this right now. Juan Pablo winning in Mexico City is huge.

The controversy with Scott Pruett has been blown way, way out of proportion. I wish everyone would watch the replays and see as clearly as I do that Scott Pruett came down on Montoya and Montoya did not spin Pruett out. It was a bold move for sure, but it wasn't intentional. This was Racing 101: guy with the faster car makes a move, person in front doesn't back off, the cars make contact. It didn't work out for Pruett but he needed to see what really happened before he made his comments that will be replayed for the next month.

After the running of this race, I'm now confident enough to say it needs to stay on the schedule. Keeping Nextel Cup in the states for now works, and having the Busch Series go international to see the market is going well. The race today was the best thus far because of the quality of the drivers. The names that finished in the top 10 are really an eclectic mix: Montoya, Said, Edwards, Pruett, Goeters, Ambrose, Fernandez. If you want international, Australian-born Marcos Ambrose impressed me with a solid run for Wood Brothers/JTG and Adrian Fernandez finally finished where he ran most of the day. Overall, I thoroughly enjoyed the race. Juan Pablo has a new fan (that being myself) and I cannot wait to see him the rest of the year in both Nextel Cup and Busch.

Full results, point standings, and another link to the new location I'm slowly migrating to. See yall later in the week.