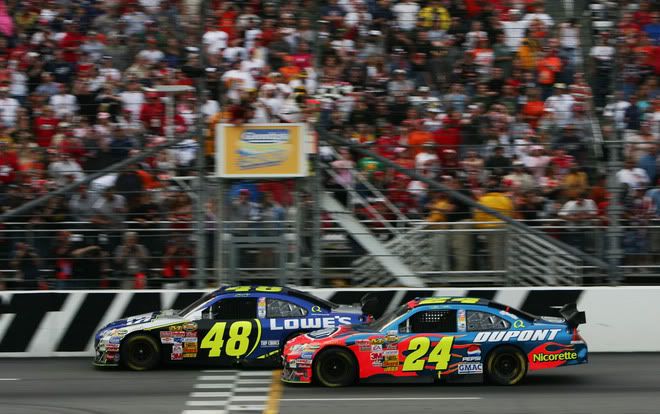 The second race of the COT proved to be, well, pretty damn exciting. My thoughts on Jimmie and Jeff are well-known but I'll be the first person to tell you that today, they put on a terrific show at the end of the race. It was compelling to see A.) how much Jimmie would block Jeff and B.) how hard Jeff would hit Jimmie to move him out of the way. Gordon's car was a bit better than Johnson's but Jimmie did what he had to and got the job done. I was surprised how well his car would run a lane higher and keeping Jeff from getting alongside on the straightaways so he couldn't get by him. I still can't stand him, but I give the man his due, he earned it today.
I'll tell you, it'll be interesting to see what happens when Kyle Busch puts it all together mentally. He made some bold, wild, and daring moves in the #5 all day. The talent that kid has is scary. He still doesn't like the car, by the way. I wonder what he'll say at Texas in two weeks if he finishes 3 laps down in 28th.
Today was a day of redemption for David Ragan. He drove a great race today and showed that he really has come along since last October. A 15th place finish is solid and I hope that this run has silenced some critics, or at least stopped them from being so vocal.
There is still some work to be done with the COT. One thing we will see with this car, I believe, are close finishes nearly every week. I still think we need spoilers instead of wings, but some teams were proactive and put their logos on the sided of the wing. I thought that was kind of funny. So far I'm liking this splitter in the front so I'll relent a bit on the car. Is it too early to be demanding a hybrid of the current car and the COT?